Veterinary Emergency Response Team (VERT)
Responding to animals in disasters and emergencies
The UC Davis Veterinary Emergency Response Team (UCD VERT) is the veterinary response team at the UC Davis School of Veterinary Medicine.  The UCD VERT is a volunteer group lead by a core of faculty and staff with extensive experience in animal rescue and disaster medicine.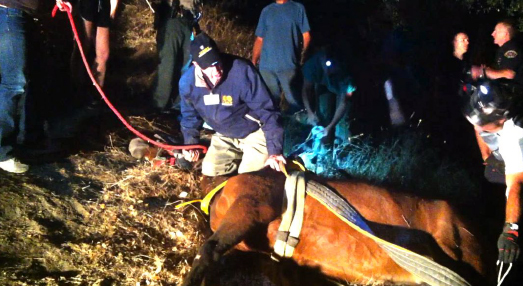 The UCD VERT is a Medical Reserve Corps (MRC) comprised of faculty, students and staff who are trained in animal emergency response, and can respond to disaster management when requested by government services. Members of UCD VERT MRC receive training in the Incident Command System (ICS) and National Incident Management System (NIMS), animal sheltering, disaster medicine, evacuation methods etc and can become registered Disaster Service Workers. (www.medicalreservecorps.gov/HomePage).
Students at UC Davis School of Veterinary Medicine created the sVERT club, and are trained by the VERT faculty and staff by means of lectures and hands on exercises in disaster medicine.  The primary role of sVERT is training.
The UCD VERT MRC can be deployed in emergencies in Yolo and other counties upon request by the Yolo County Office of Emergency Services (OES), or in declared state disasters.  Requests for assistance outside of our call area are dealt with on an individual basis given the limits of the volunteer nature of the UCD VERT MRC. 
The UCD VERT activities fall under the mission of the University of California, which is to meeting societal needs by teaching, research and service. The UCD VERT provides seminars and workshops on disaster preparedness, disaster response, and rescue methods to individuals and agencies involved with animals. The research component involves science based studies to develop protocols for integrated emergency and disaster response, development of equipment used in rescue, and to create local and national guidelines for care of animals in emergencies and disasters.