Disaster and Emergency Preparedness
Caring for Animals in Disasters and Emergencies
We at IAWTI have identified a key area of animal welfare: protecting the health and wellbeing of animals and humans during disasters and emergencies.  By caring for animals in disasters and emergencies, we help humans cope with the impact of disasters.
This involves awareness, training, and integration of veterinary medicine to first responders, private practice veterinarians, disaster response workers, emergency planners, and the many volunteers who come to the aid of animals and people in large-scale disaster events.
The UC Davis Veterinary Emergency Response Team faculty and staff are involved in educational support as lectures and hands-on workshops, including:
Curricular Education of Veterinary Students -

including lectures, small group training and wet labs on emergency and disaster preparedness and response within courses throughout the veterinary curricula. 

Extracurricular Instruction and Training of Veterinary Students

 include oversight of the three certificate programs for students enrolled in the student Veterinary Emergency Response Team: Special Studies Program in Veterinary Emergency Response Level 1, Special Studies Program Veterinary Emergency Response Level 2 and Train-The-Trainer. Part of these programs is readiness trainings and deployment as members of the UC Davis Veterinary Emergency Response Team.

Instruction and Training of Veterinary Professionals 

including readiness trainings and deployment as members of the UC Davis Veterinary Emergency Response Team.

Continuing Education Presentations

 to veterinary professionals at domestic and foreign veterinary schools, local, regional and international conferences, American Association of Equine Practitioners and Northern California Association of Equine Practitioners, Local Veterinary Medical Associations and State Veterinary Medical Associations.
Topics Include but are not limited to:
Animal Rescue

Animals in Emergencies and Disasters

Animal Sheltering

Disaster Preparedness That include Animals

Veterinary Care of Animals in Disasters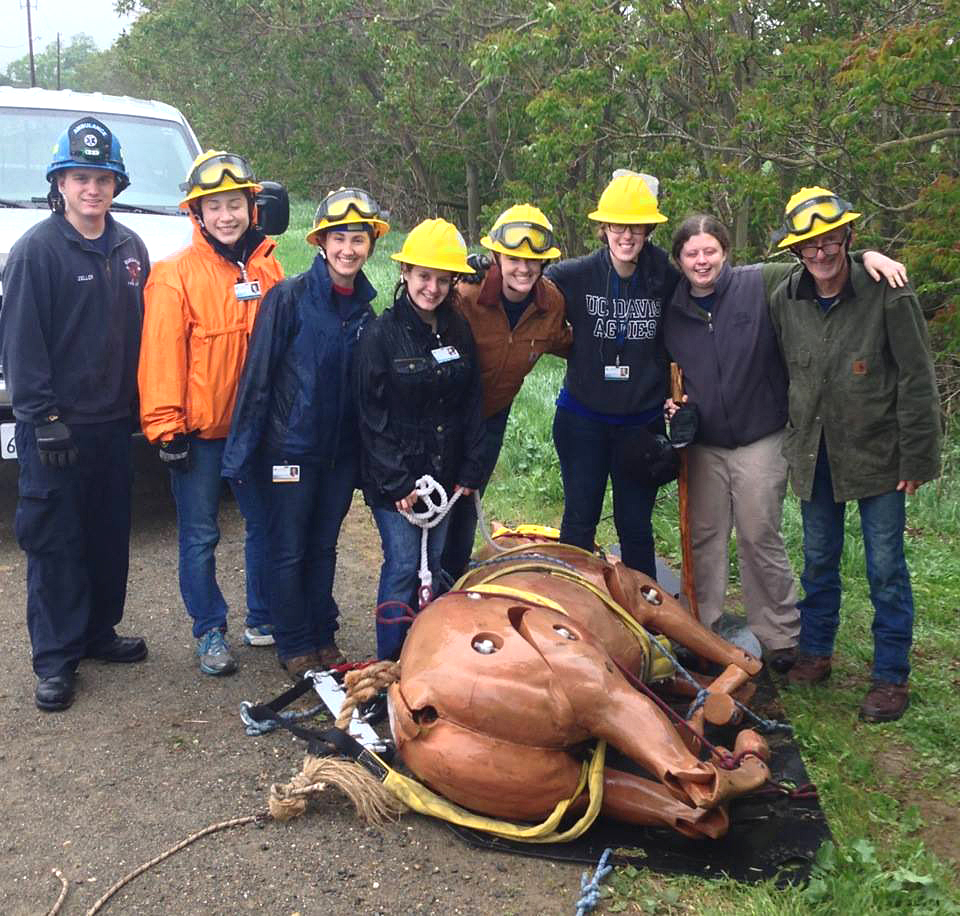 When a catastrophic event overwhelms a community, the first instinct is to grab loved ones and head to safety. Many pet owners would never want to leave their animals behind, but they haven't made an emergency plan for their pets. When a town must evacuate due to a major emergency, such as a fire, many people refuse to leave without their animals. This puts them and emergency responders at risk. When people do evacuate with their pets, they often arrive at a shelter only to find that animals are not allowed. People have lower stress and cope better when the entire family, animals included, is not separated during such a traumatic time. It is important that emergency management personnel have the knowledge to create a safe shelter environment for pets.
Individual animal emergency responses occur frequently. When an animal is in a precarious situation, many bystanders' first instinct is to help the struggling animal. There is a significant risk to human and animal safety when the public or first responders with no specialized training in handling animals in an emergency situation try to step in. For example, if a horse or livestock trailer overturns on the highway, the animals may become loose on the roadway and create a public safety hazard. The situation may require a veterinarian to provide restraint, sedation, anesthesia, or emergency treatment to the animal.
We are continually working to make sure the animal component is in place for disasters and emergencies – locally and globally. Our mission is serve as educational and training group to support communities in need.
IAWTI has created a veterinary emergency response curricula and training modules for animal emergency responders, veterinary professionals, first responders, emergency planners, and animal owners to safeguard animals and humans during a disaster or emergency.
Helpful Resources: