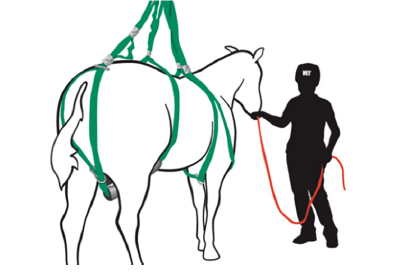 Horses, once stranded or recumbent, can hurt themselves and endanger the personnel trying to rescue them. Successful rescuing of these horses often requires emergency lifting. The new Loops Vertical Lift System, or Loops System, utilizes commercially available, and reasonably priced equipment that when used correctly may save lives of stranded horses needing emergency rescue and short-term lifting. 
Two studies have been published on description of placement and evaluation of the system in stranded or recumbent horses. 
Description of placement procedures for common methods used in equine emergency rescue using a simplified loops system. 
Evaluation of a simplified loops system for emergency rescue lifting of the stranded or recumbent horse. 
The Loops Equine Rescue System is available here: loopsrescue.com